PEDAL PEOPLE NEWS WINTER 2023

Greetings from the Pedal People Press!

A simple, informative newsletter to support our collective path to sustainability.
-Pedal People Financial Assistance Fund needs donations!
-Sorting Recyclables


-Building Worker Power Conference at UMASS
-Refugee Resettlement Project
-Scrabble for Charity!

-Need Yard Care this season? Try us!
OUR FINANCIAL ASSISTANCE FUND
Back in 2021, Pedal People started collecting donations to support customers who need help affording their service bill. Since then, we've supported those customers by discounting their service 10-50%, based on self-reported need. In all, we've given over $1600 of assistance so far! Unfortunately, the fund is currently empty, and we are asking for help to restore it so we can keep supporting our customers. Please consider making a donation of any amount to the Financial Assistance fund.
If you are able to make a contribution, the quickest way is via this page (best when *not* logged into a Pedal People account), and please make sure to put "Financial Assistance Fund" in the notes. Contributions to this fund are not tax-deductible. If you are a customer and prefer a recurring donation on your bill, we can easily arrange that.
Thank you for all the support you've given us so far. We believe this is an important service in an area with no public trash pick-up service, and we hope to continue providing it through 2023 and beyond.
SORTING OF RECYCLABLES



On a more mundane note, this is your semi-regular reminder that the rules of recycling in our area are slightly complex, and contain several notable exceptions. Remember: any black plastic containers should go in your trash rather than container recycling, cardboard egg cartons and paper cups should go in your compost or trash rather than paper recycling

(paper cups will be labelled if they're compostable)

, and plastic-lined cardboard containers like drink and stock cartons should go in container recycling rather than paper. These are just a few of the most common mistakes we encounter, so check out our local Materials Recycling Facility's

website

or our

info sheets

for full guidelines!
BUILDING WORKER POWER CONFERENCE

Friday-Sunday March 24-26 some of us Pedal People will be attending a conference at the UMASS Amherst focused on building worker power. The organizers hope to attract "community members, organizers, activists, educators, students, and anyone interested in worker power and social transformation"- so if that sounds like you, feel free to buy a ticket at their website! Admission is pay what you can, though tickets for Five College faculty, students and staff are free. Keynote speakers include Kali Akuno of Cooperation Jackson, and Chris Smalls, President of the Amazon Labor Union!
From their website: "In this time of economic crisis and ecological collapse, workers of all kinds are organizing to reject the alienation of racial capitalism. This conference explores the deep histories, current happenings, and future possibilities of collaborations between union organizing and worker-owned cooperatives."
DONATIONS FOR REFUGEE RESETTLEMENT PROJECT
Our local refugee resettlement organization, Welcome Home, is currently looking for in-kind donations of household goods to help newly arrived refugees get settled! They are looking for certain types of furniture, items of warm clothing, certain cleaning supplies and cookware, and various other household goods. You can read the full list on their website
here
. To donate, please contact
k.pyle@diospringfield.org
. Everything must be new or very gently used!
SCRABBLE FOR CHARITY

Our own worker-owner Brett, together with the rest of the Northampton Scrabble Club, is organizing a charity event to raise money for three local organizations: Habitat for Humanity (Pioneer Valley), Northampton Survival Center, and Cancer Connection. Free lunch is provided, and there will be a huge raffle to enter. All proceeds will go to the beneficiaries, no one turned away. Build community, share a meal and some Scrabble, and win prizes- all for great causes! See more
here
!
The event will be from 11am-3pm on Saturday, March 25th at the American Legion Hall, 63 Riverside Dr in Florence.
PEDAL PEOPLE YARD CARE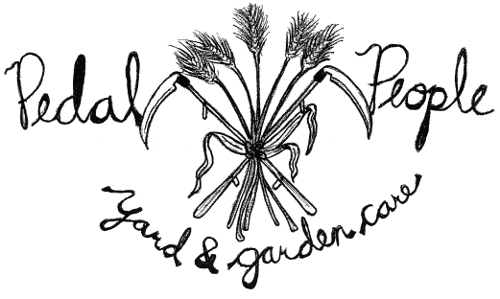 Did you know that Pedal People also does yard & garden care?
We use no gas-powered machines or harmful chemicals, and transport all our tools by bicycle and bike trailer.
Our services include:
Spring clean-ups (raking, cutting back dead plant matter, pruning, prepping beds, mulching, etc.)

Regular (weekly & biweekly) mowing with electric lawn mowers and edging with electric string trimmers

Hedge trimming

Weeding

Garden prep and maintenance

Leaf raking & fall clean-ups

Hauling yard waste
"Low-horsepower machines account for at least 10 percent of the nation's smog-forming pollution, which has been linked to respiratory and heart disease, according to the EPA. A single lawnmower emits as much pollution in an hour as 50 cars driving 20 miles." - from The Washington Post, June 10, 2005.
Call or e-mail us
with any questions!
Bike on!
Pedal People
Our mailing address is PO Box 415 Northampton, MA 01061-0415
Would you like to change how you receive these emails?